Bike tools you need while rebuilding an old mountain bike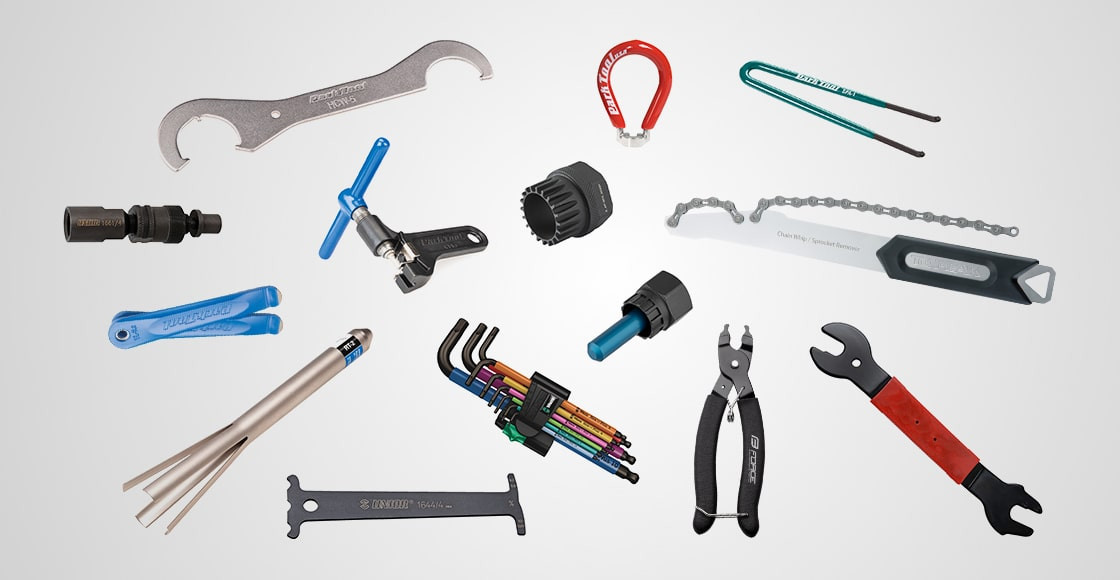 Like with any restoration or refurbishing project in general, there are many benefits to rebuilding an old bike mountain bike.
You get to understand of how they work, learn about bike maintenance, have the opportunity to update and personalise it with modern components, and in the end ride something fun that you worked on, giving you a great deal of satisfaction.
To get started, beside an old bike and some new parts and components, you will also need a collection of tools. Some of these are are pretty generic that you'll find in a household, but there are some bike-specific ones too. Most of them can be purchased in sets, but we advise to build up you toolbox piece by piece, as you need them. A few of these can be also found bundled on multi-tools.
In the following, we will go through the tools that you'll need to bring your old bike back to its former glory or have it re-purposed for contemporary use.
Hex wrench set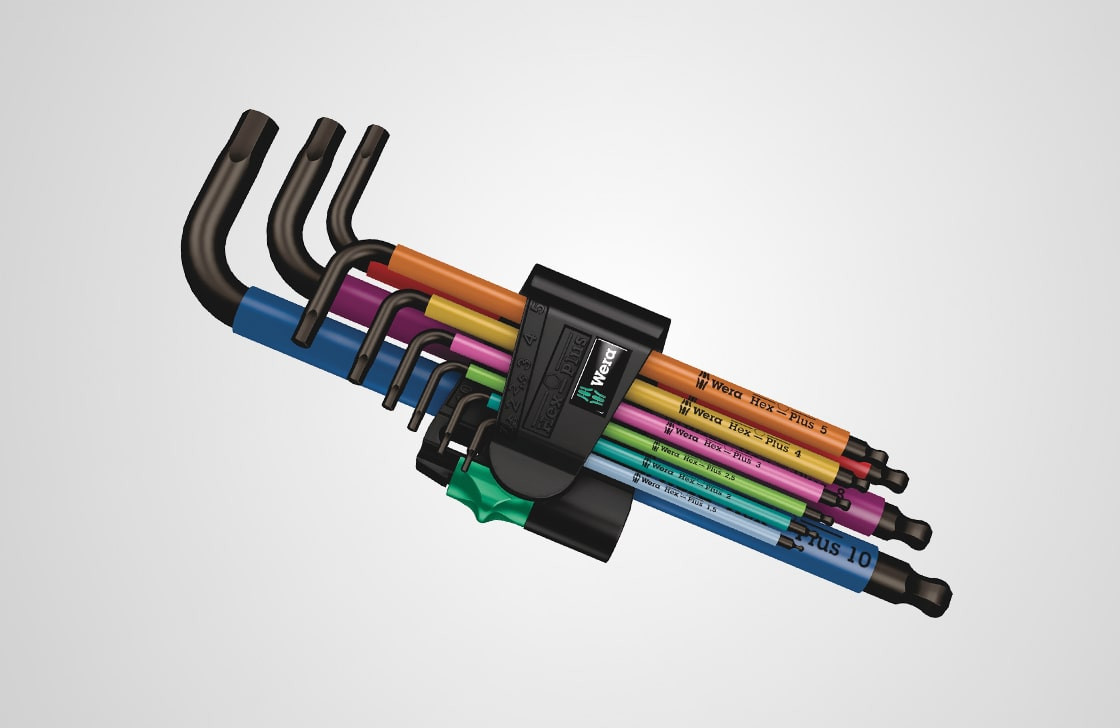 A hex wrench is also known as an Allen Key, and you will need a good set to fix up your bike. They are pretty simple, usually L-shaped tools used to tighten and loosen bolts with hexagonal recesses. You can buy individual keys, but it is best to buy them in a set. A decent set of hex wrenches will allow you to do easy and more involved jobs on any type of bike. You'll need them for bolts on your brakes, levers, shifters, derailleurs, stem, seat post, and so on.
Open-end wrenches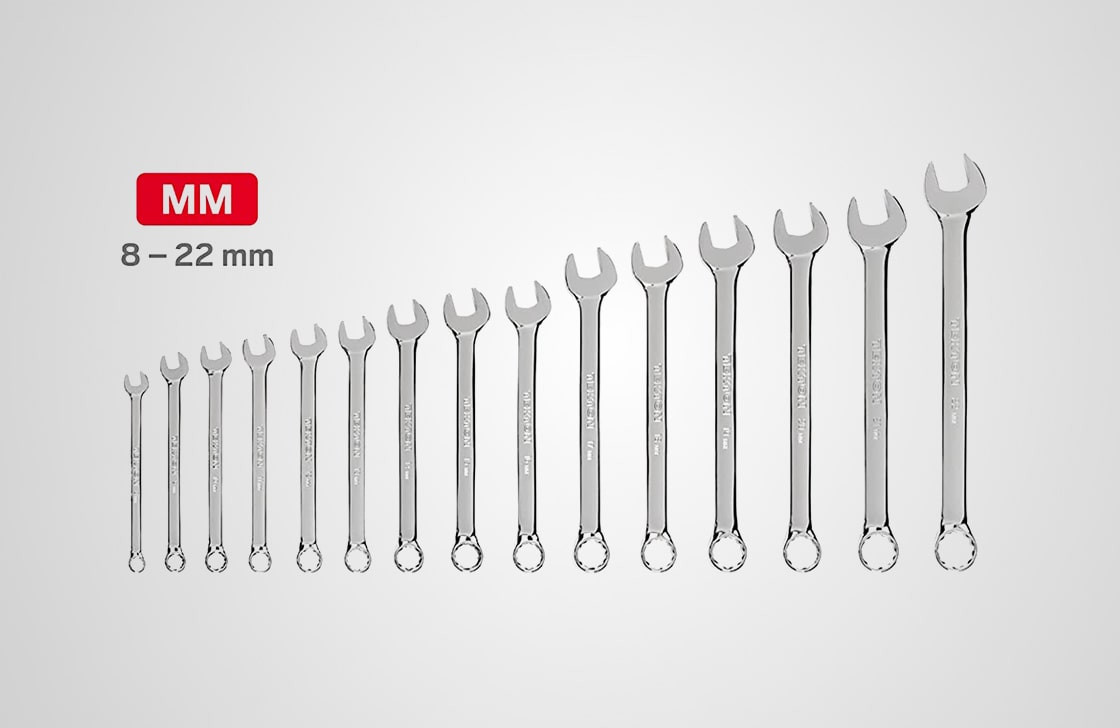 Open-end wrenches are not bike-specific tools, but they are essential for your rebuild. These tools have flat jaws that fit around nuts, so you can tighten and loosen them. You will use open-end wrenches on brakes, derailleurs, and any other component on your bike that uses small nuts. Often open-end wrenches have a ring on the other end. The ring is the same size as the open-end side and fits over the nuts.
Adjustable wrench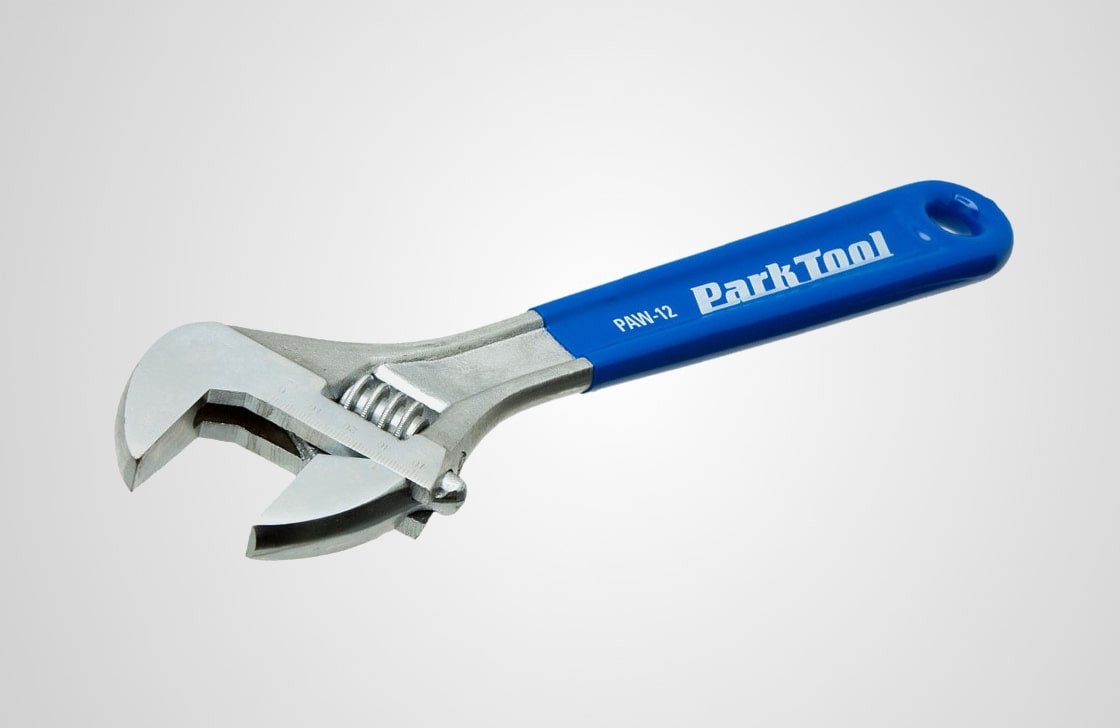 An adjustable wrench allows you to work on nuts of different sizes. You can change the gap between the jaws to suit the nut. These are very useful tools but should not be regarded as a substitute for a decent set of open-end wrenches. If you use them incorrectly, you can easily round the nut, making it very difficult to remove. An adjustable wrench is ideal for loosening the 1" nuts on headsets and loosening and tightening cassettes, freewheels, etc.
Pliers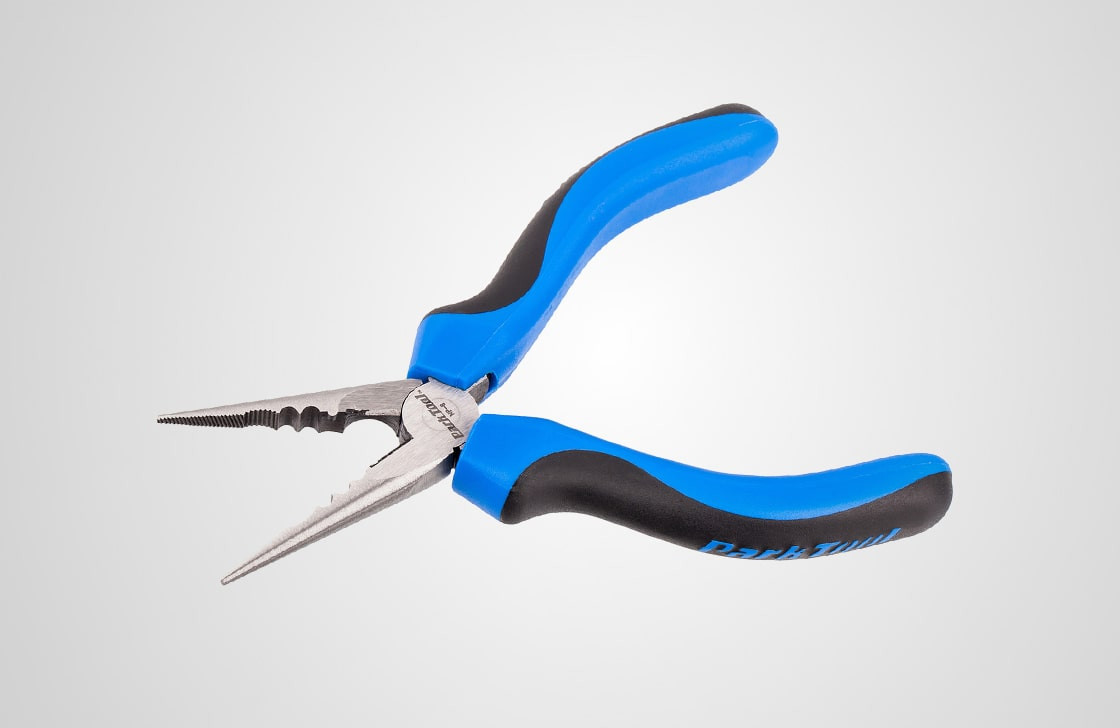 Without a good set of pliers, you will find that some jobs relating to rebuilding an old mountain bike are impossible or challenging. The most useful type of pliers is needle-nose pliers. These allow you to work on your brakes and drivetrain. For example, you can hold gear or brake cables with your pliers to get the correct tension.
Phillips and slotted (flathead) screwdrivers
Good quality Phillips and slotted (flat) screwdrivers are essential for adjusting some brakes and derailleur limit screws.
Cutting pliers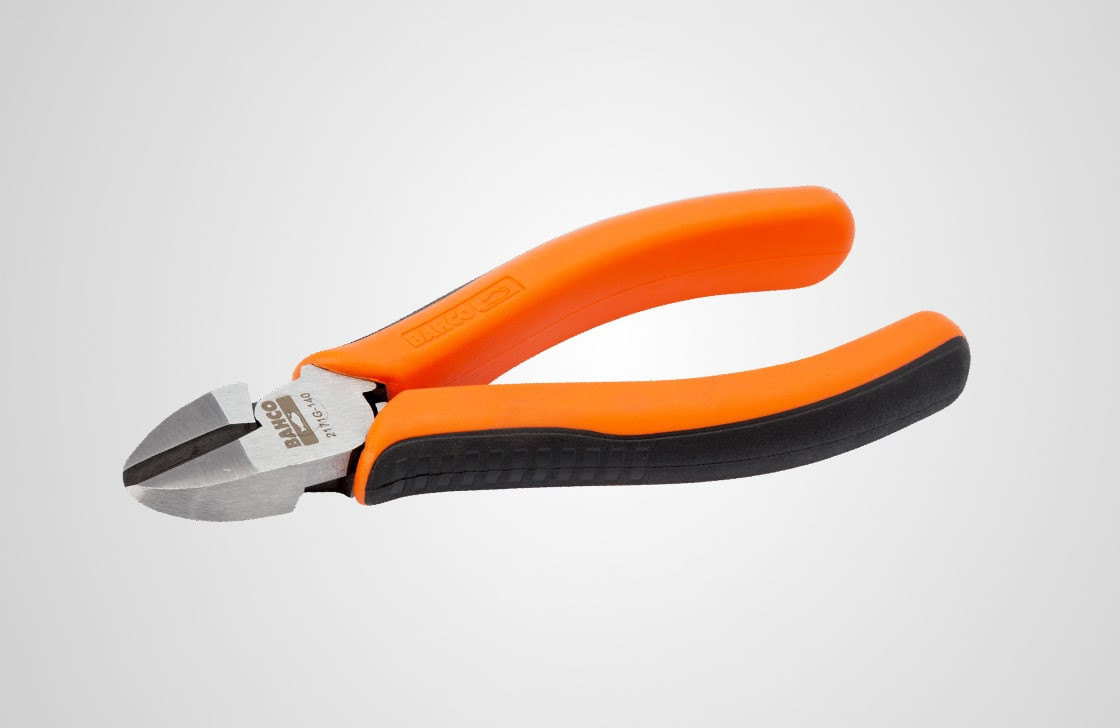 Cutting pliers are also essential for working on your brakes and drivetrain. Once you have perfectly set up the cable tension, you need to trim the excess cable with your cutting pliers. These are also handy to have around for general use too.
Chain wear checker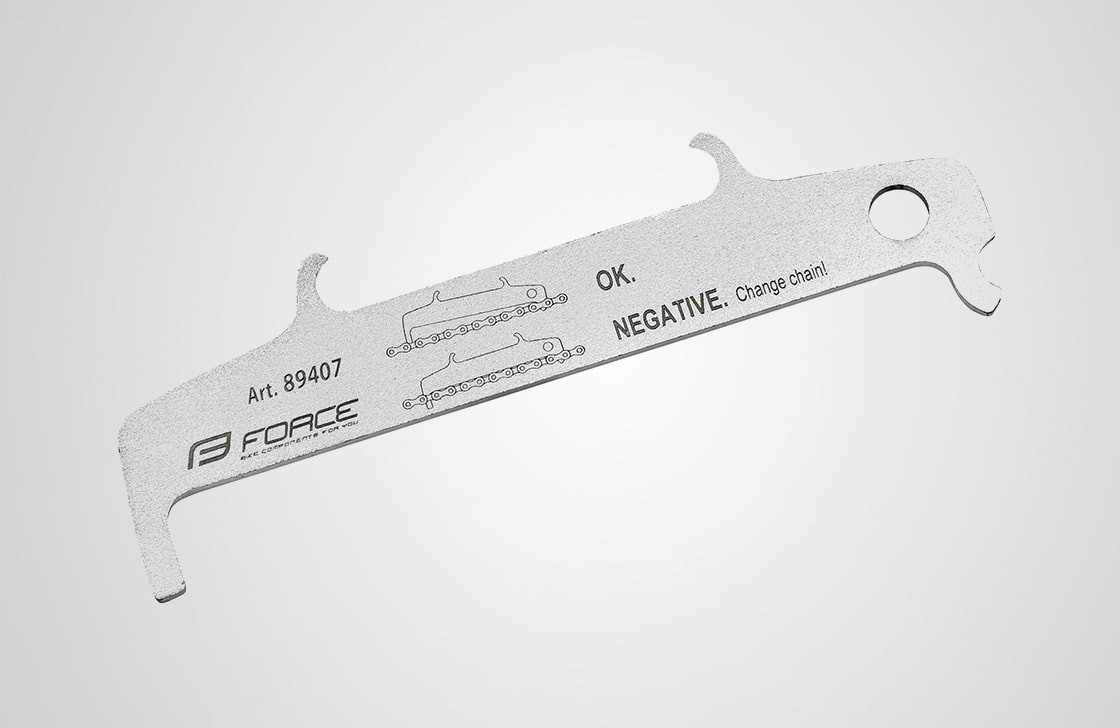 When it comes to rebuilding an old mountain bike, you will probably need to change its chain. If your chain is worn, it will wear out your drivetrain components much faster than usual. Therefore, a chain wear checker is helpful to have in your toolbox.
Chain tool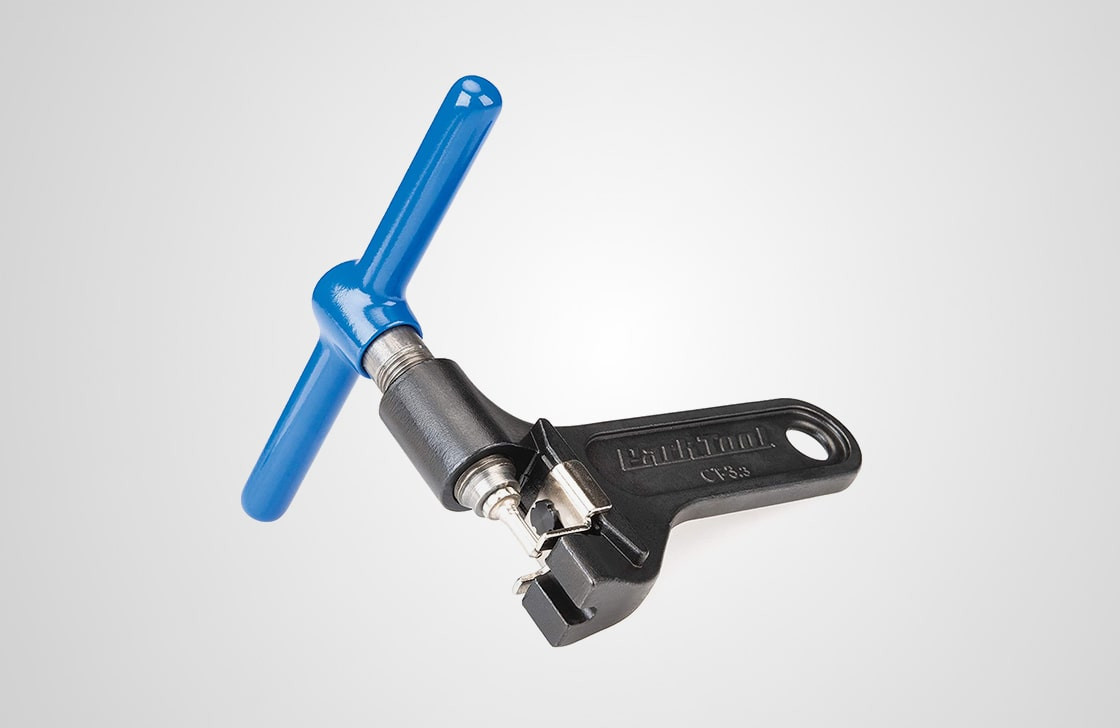 A chain tool is very handy both in your workshop and on the trail. This tool is a small device that allows you to break your bike's chain. It removes a pin from a link in the chain, but it also pushes it back in when it's time to put the chain back on.
Master link pliers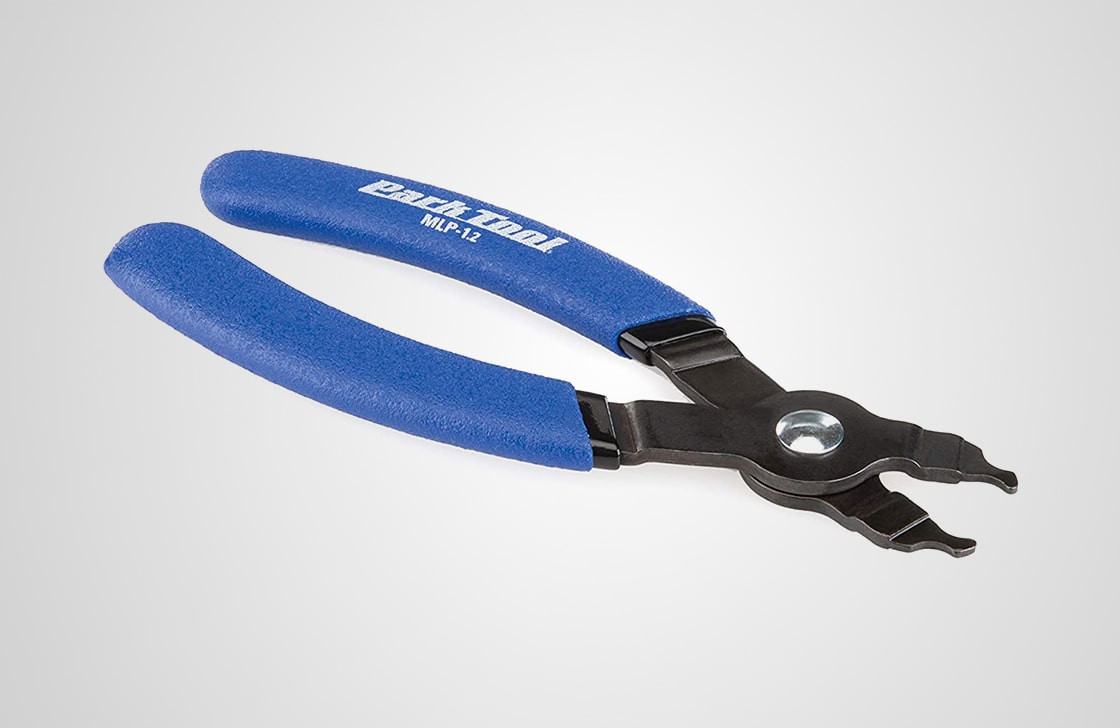 Most bike chains these days have a "master link." However, you may hear it referred to as a "quick link." This link allows you to remove the chain without needing a chain tool, as you don't have to remove a pin from a link. Master Link Pliers make removing the link very fast and easy. So, when you give your bike a new chain, you may want to make sure it has a master link.
Chain hook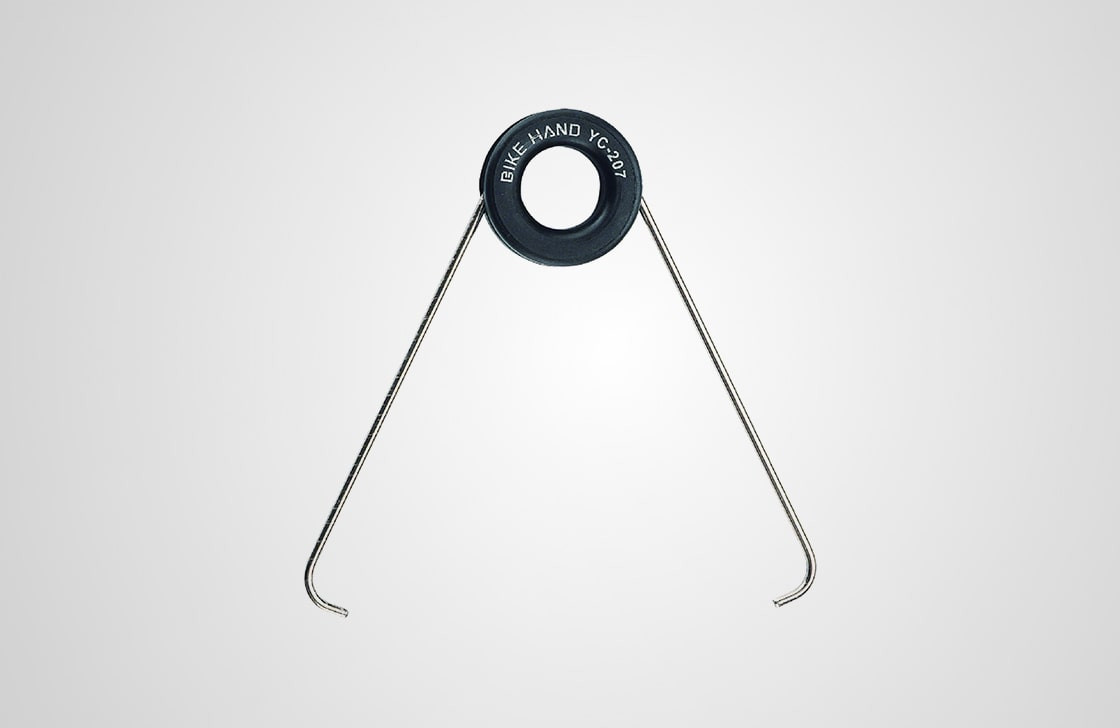 You may want to pull your hair out when you are trying to split and reconnect your bike chain while it is under tension. It often slips through the derailleur and rolls off the chainrings causing lots of frustration. To prevent this frustration, you can use a chain hook. This is a simple device that hooks between two links, leaving you a loop. The chain is kept in place, but you can break it at the loop. You can buy chain hooks, but you can also make one from an old spoke or piece of wire bent into a hook at each end.
Tire levers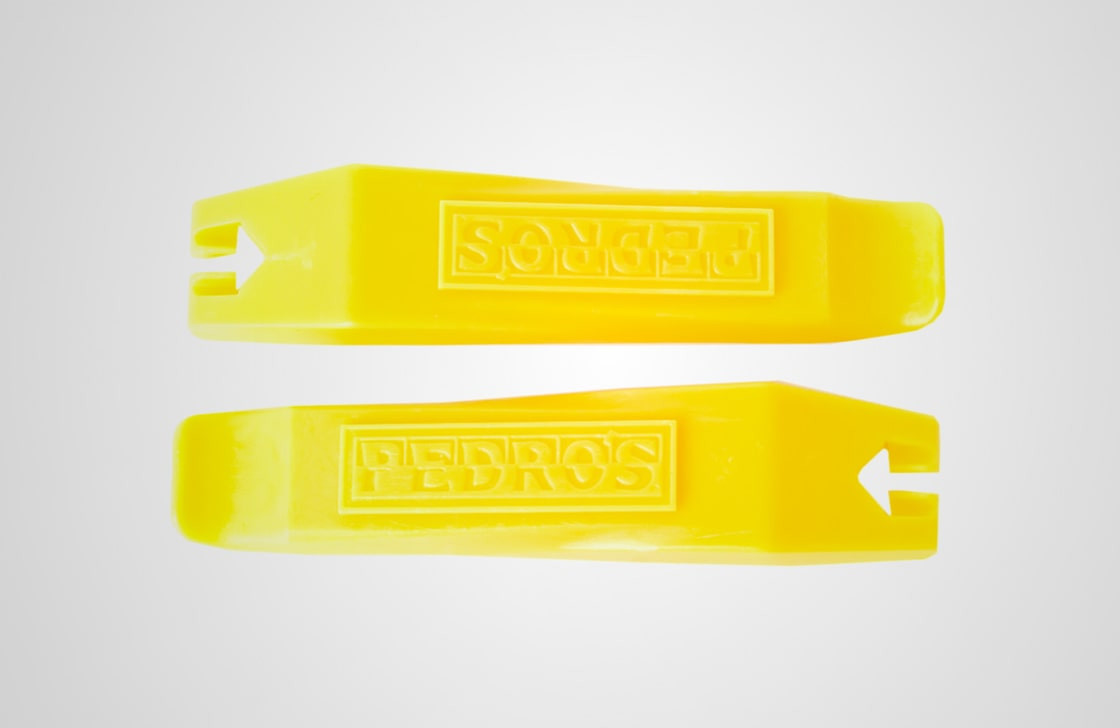 Every bike rider should know how to change an inner tube in case you get a puncture. To change your inner tube, you need to get the tire off using tire levers. You need at least two tire levers to pull the tire bead away from the rim. Some tire levers are better than others, and the very cheap ones can be fragile. They can also be poorly designed, which can cause you to damage your new inner tube when you put the tire back on.
Air pump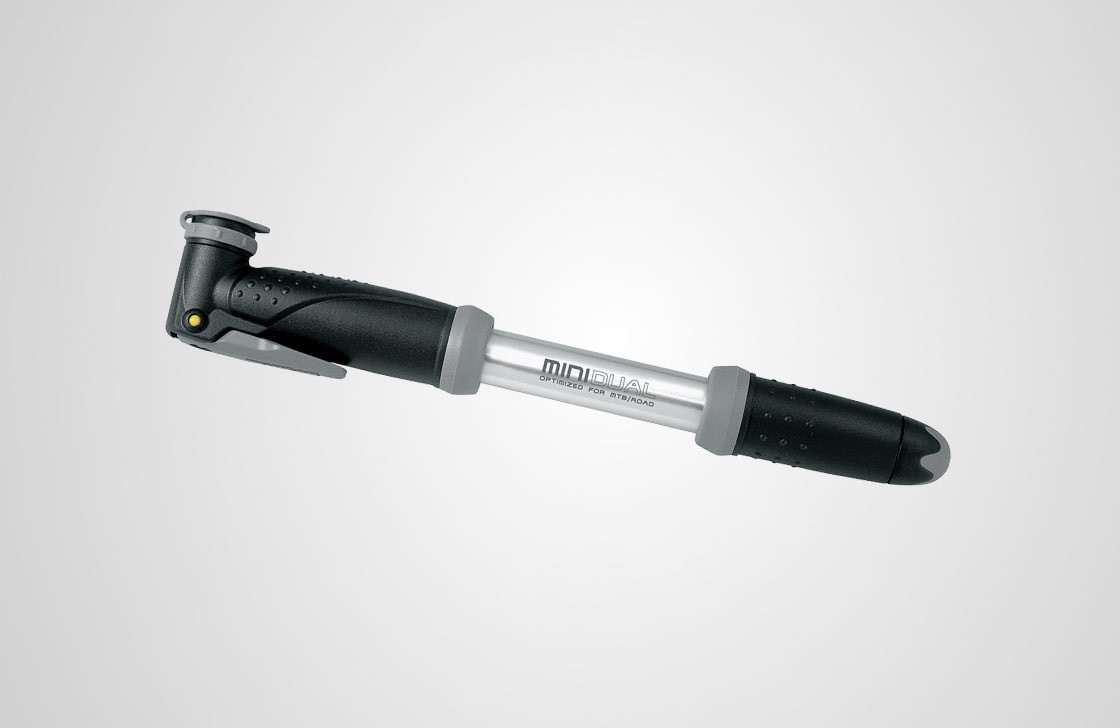 Once you have got your tire back on the rim, you need to inflate it. For home use, it would be best if you bought a track pump. These are large pumps that make inflating your tire easy. However, when you are riding your bike, you need to carry a mini pump. These fit nicely into your backpack but are not very efficient; however, these will ensure that you get home.
Spoke wrench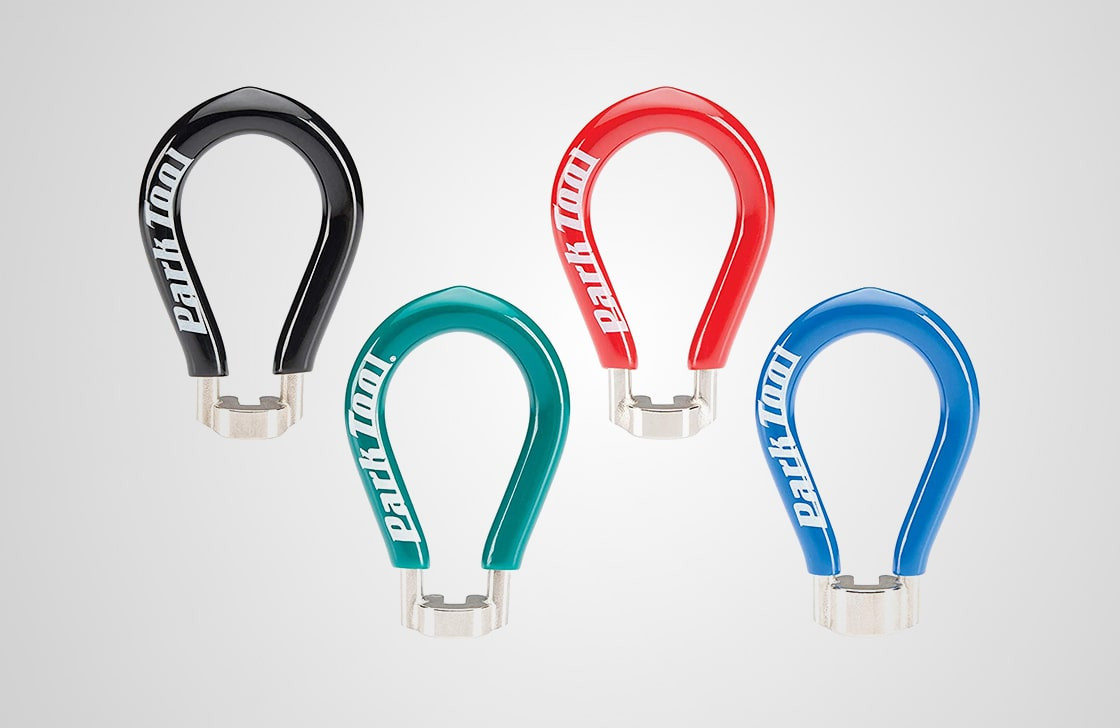 If you are going all out on your bike rebuild and are rebuilding the wheels, you will need a spoke wrench. A spoke wrench allows you to adjust the spokes, so you can "true" the wheel. This means you can realign the wheel, but it also means you can install new spokes. The trick is to get all the spokes on the wheel to be tensioned evenly via the spoke nipple. When you get this right, the wheel will be perfectly true and round.
Hub cone wrench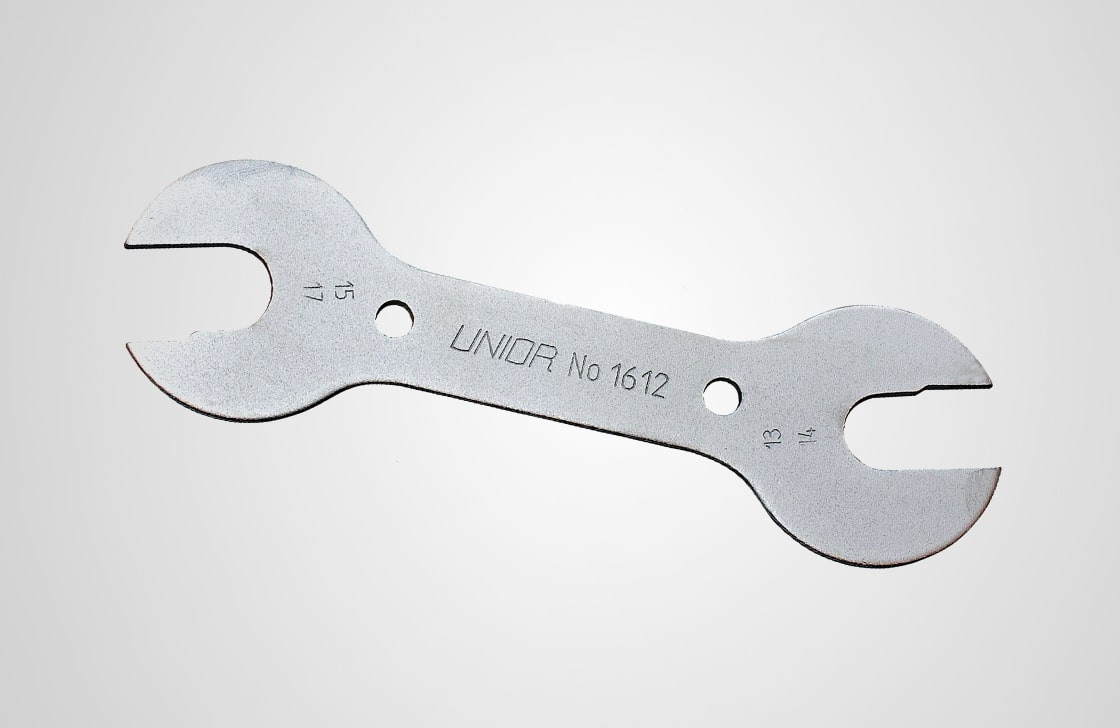 A cone wrench or cone spanner is a tool used in bike hub assembly and maintenance and helps with adjusting the cones of cup and cone bearings. The have a thinner design than most open ended wrenches so they become useful when there is little to no gap between the axle cone and the locknut.
Cassette lockring tool + Chain whip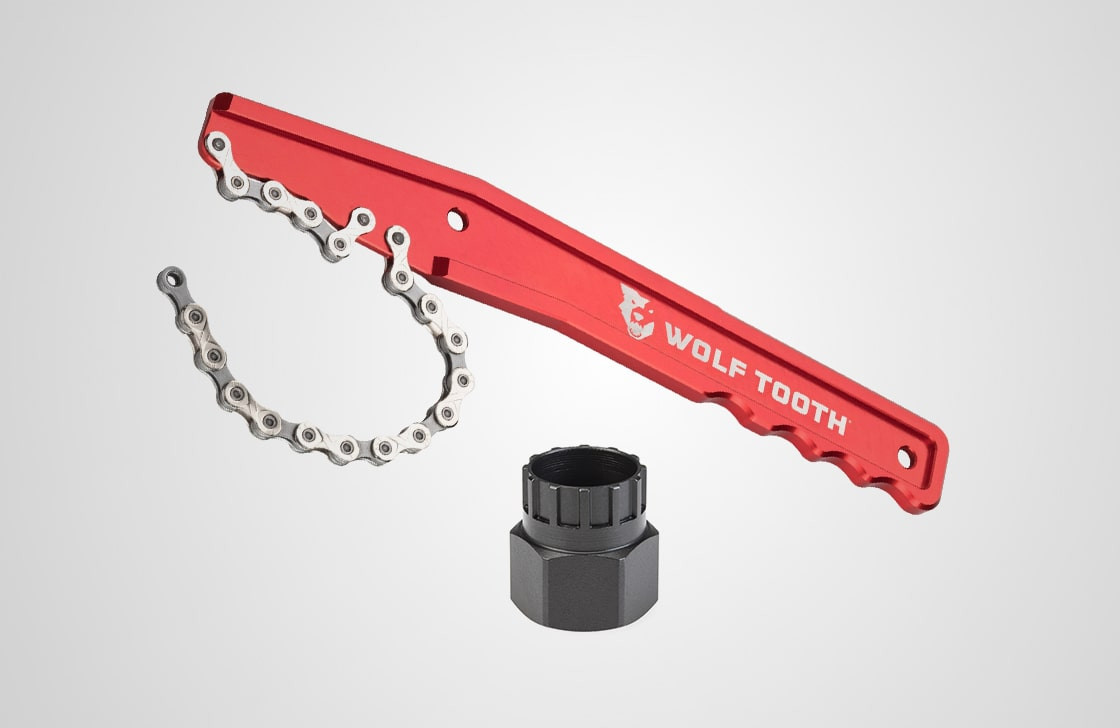 A mountain bike that has ridden about 1,000 miles needs some careful inspection. One of the things to check is the wear on your bike's cassette. If your mountain bike's cassette is worn, you will need to replace it. It is held in place with a lockring, which you need to unscrew. You need a cassette lockring tool, chain whip, and adjustable crescent wrench to remove the lockring.
Crank puller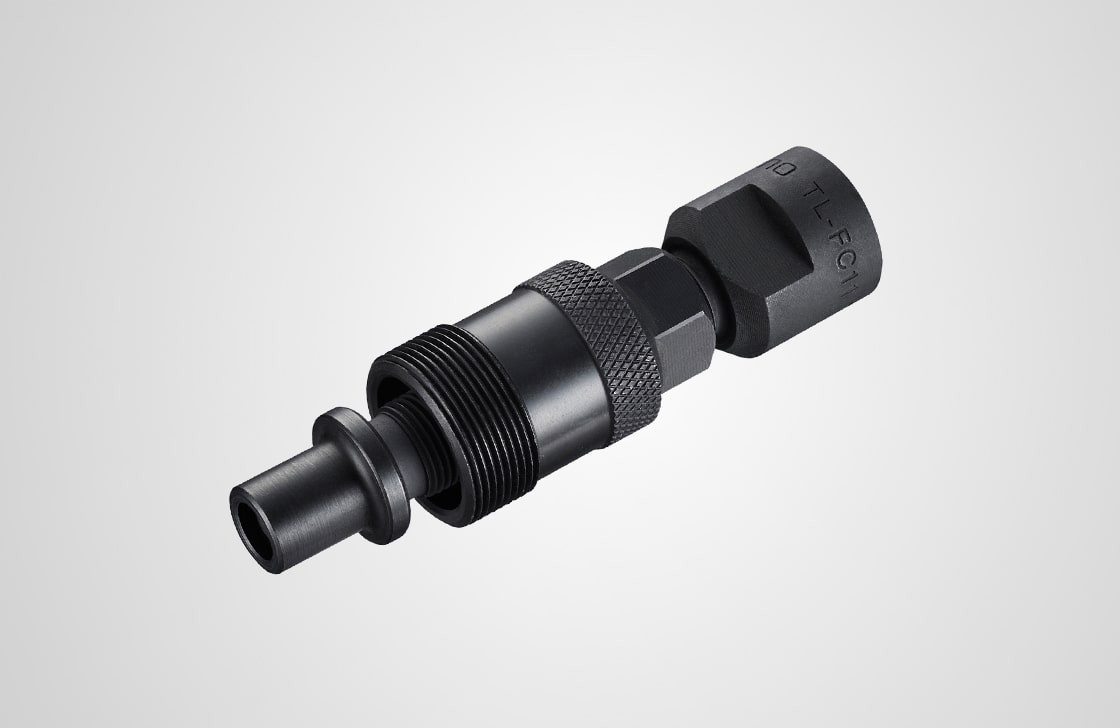 One of the jobs you may need to do, is to replace your bike's bottom bracket. It sits in between the cranks, so you need to do some work to get to it. The cranks are pressed to the bottom bracket spindle, held in place by the crank bolts or nuts. You need to remove the cranks to service the bottom bracket bearings. As most old bikes have a square bottom bracket, you need this tool that facilitates the extraction of cranks mounted the bb.
Bottom bracket tool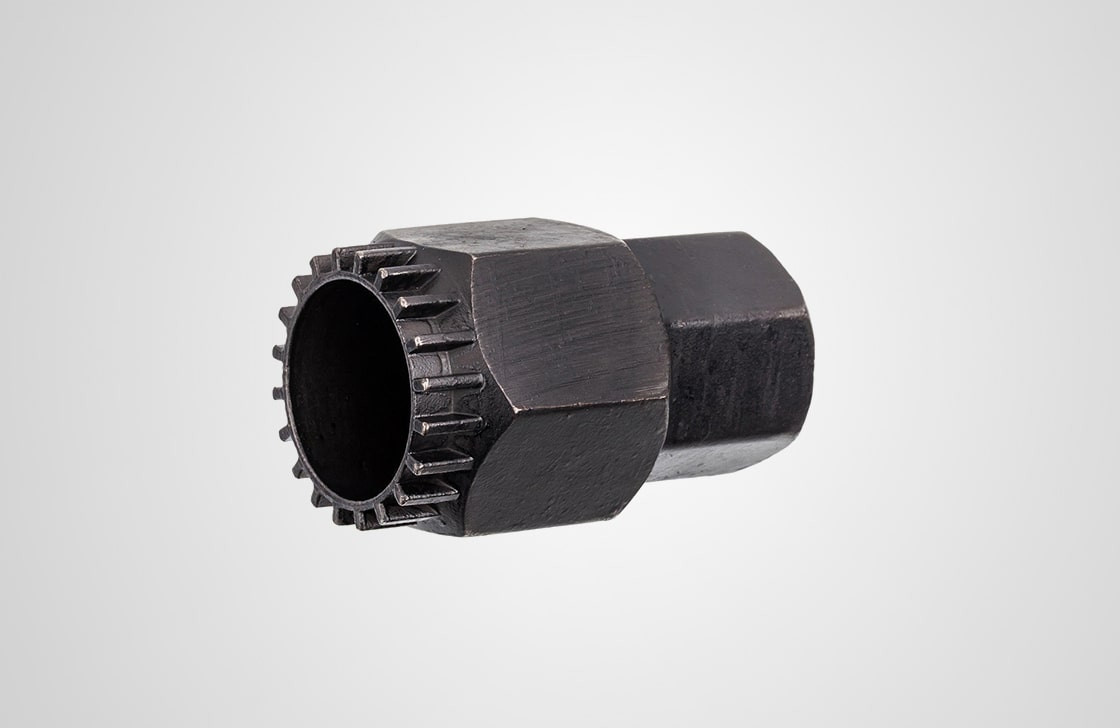 Once you have removed the cranks, you need to use a bottom bracket tool. This tool allows you to remove or install your sealed cartridge bottom bracket. If you have a press-fit bottom bracket, you will need a different tool for installing and removing it.
Bottom bracket lockring wrench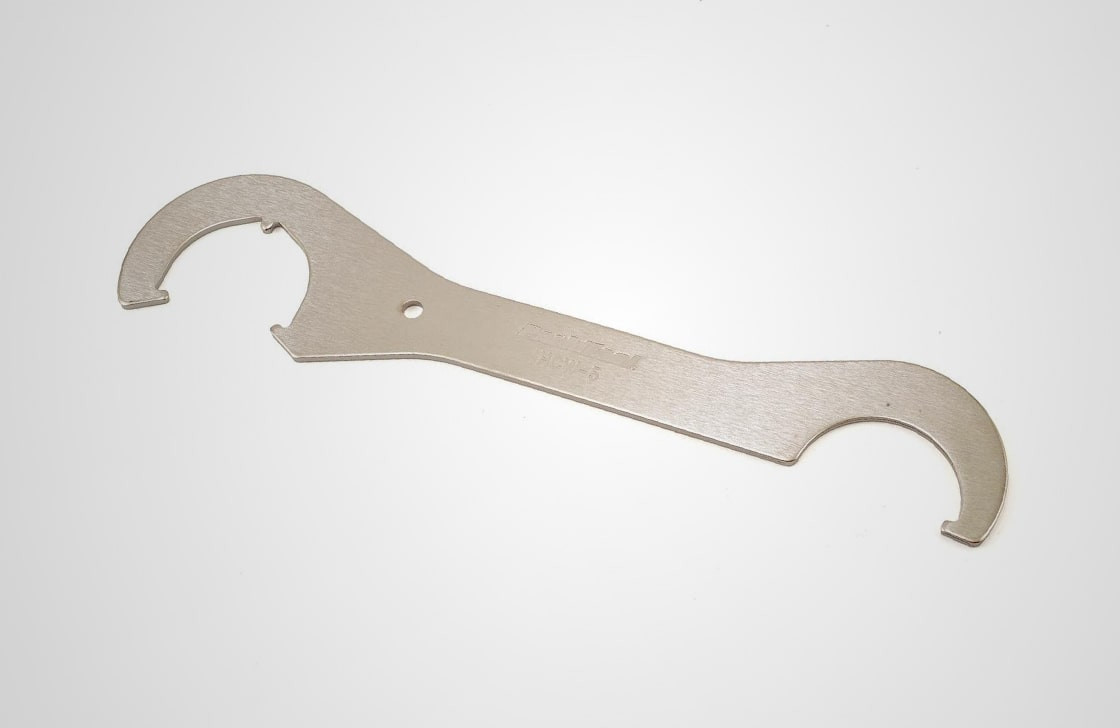 To remove a cup and cone bottom bracket you'll need a hooked spanner that will fit the lockring outside the bearing cup.
Pin spanner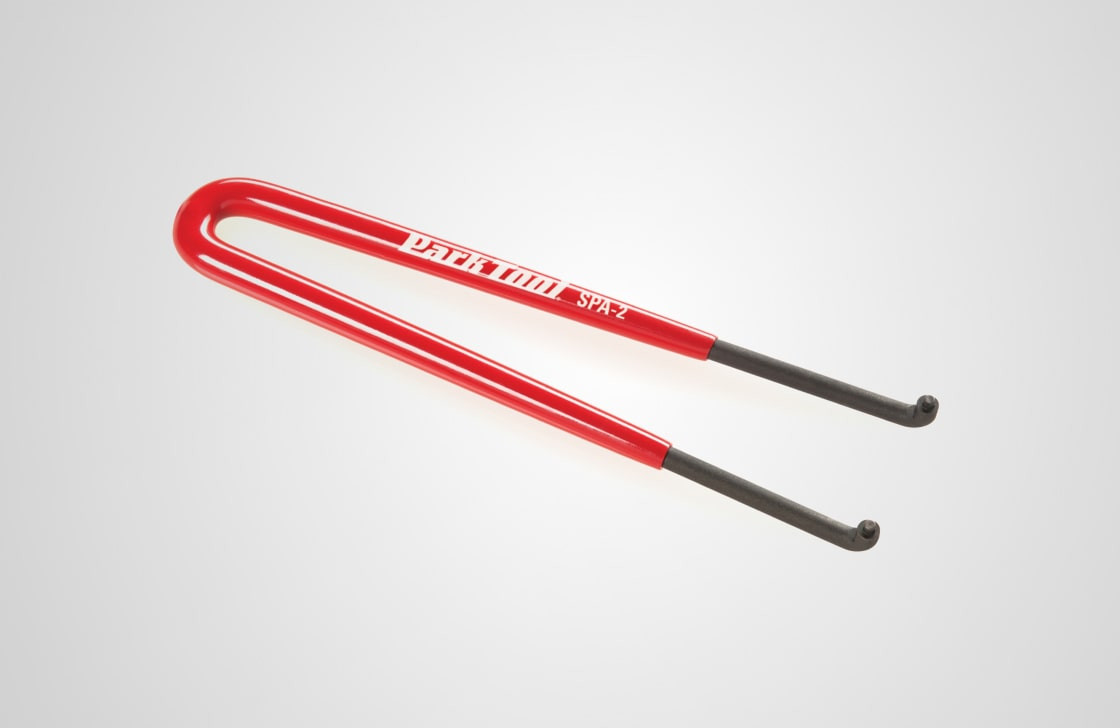 You use a pin spanner to release retaining rings on your bike's crankset. The retaining ring has two pin holes that the pin spanner fits into, making removing it effortless. People who don't have a pin spanner often try to use a hammer and nails to get the ring out. This is a bad idea, as it can damage the retaining rings.
Pedal wrench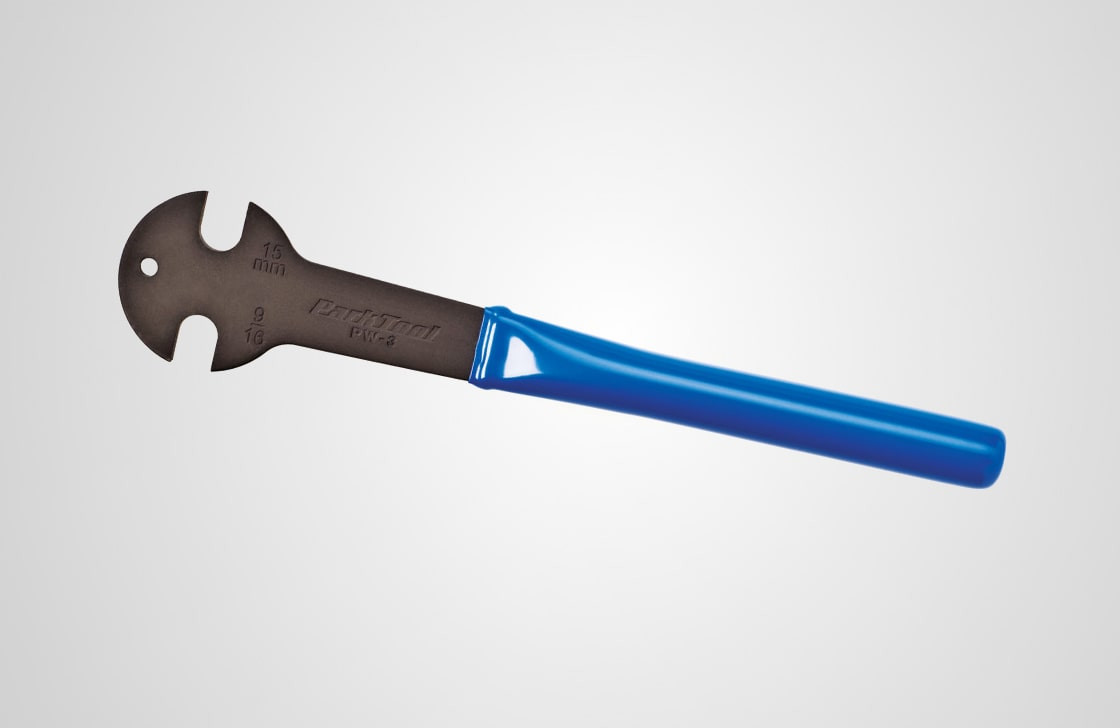 A pedal wrench is a very simple wrench that fits your pedals perfectly. It is an open-ended wrench with a thin profile to fit the narrow wrench flats you find on most pedals. Almost all modern bike pedals take a 15mm spanner. However, many pedal spanners also have a 9/16-inch jaw for older pedals. So make sure you know which size you need before you buy.
Headset cup removal tool
The bike you want to rebuild may need a new headset. If the bike has been ridden a lot, the bearings or cups may be damaged. When these parts need changing, your bike won't handle correctly, so you must replace them. You can replace the headset without a proper cup removal tool, but the job will go much more smoothly if you get the right tools. Also you can damage your headtube and the worst-case scenario could result in irreparable damage to your bike's frame.
Headset cup press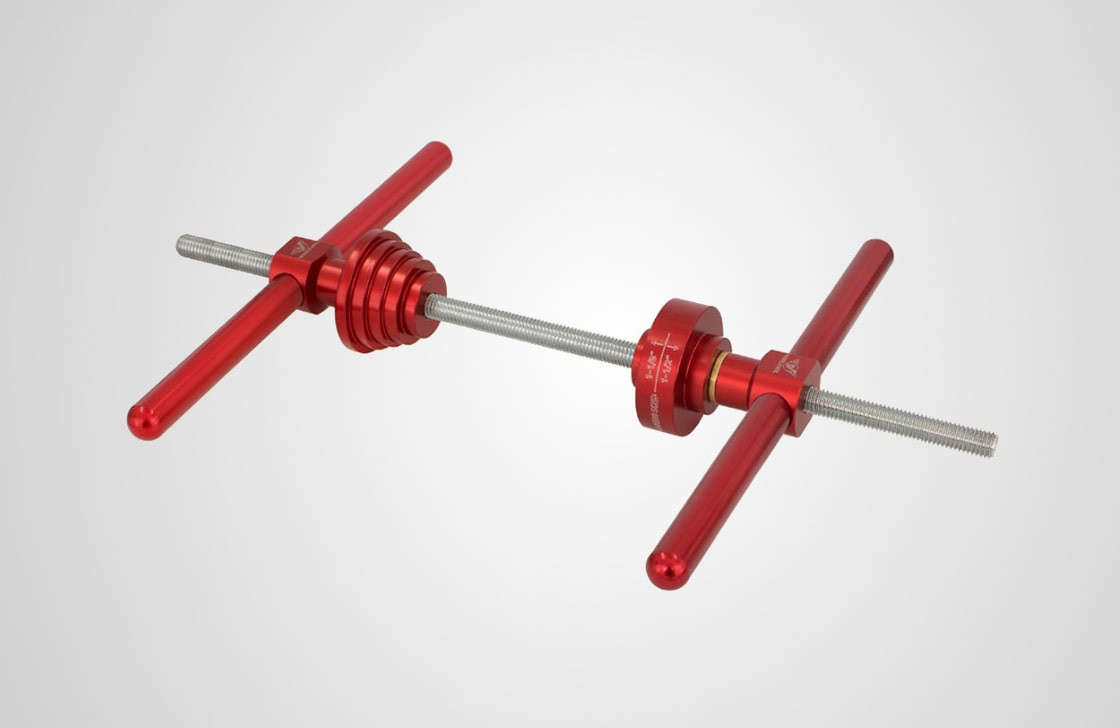 Also, if you try to press a new headset cup into the headtube with the wrong tool, they could go in crooked, causing big problems. Therefore, if you use a proper headset removal tool and press, your risk of messing it up is reduced significantly.
Caliper
The vernier caliper is a sliding ruler with jaws designed to measure internal and external diameters of objects. While putting together a bike it's essential for finding the correct sizes of parts and components.
Share